There are things that really get me amazed about life, things I really cannot understand.
There is one in particular that has filled my mind for sometime now, and I really want clarifications about the issue.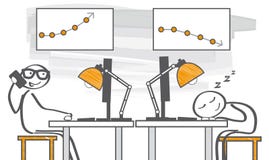 Image Source
There are humans in life who work extra hard, everyone has reasons why they work hard, some work hard in order to eradicate poverty, some work hard in other to live a good life, some work hard in order to keep something for their children, some work hard in order to help others, some people also work hard in order to continue a certain successful chain.
People work hard for several reasons .
There is another set of individuals, these ones will not work, they decide to be lazy.
These individuals are the ones who will claim that they cannot stress themselves, they just want to live a relaxed life.
But, life has taught that in order to live a relaxed and good life, you need money and money will come as a result of work.
Some of these individuals who have decided to become lazy, now depend on those who work hard to live and get a livelihood.
My question is this: Do you feel it is right for those who work hard to continue to give to those who are lazy?
What is the essence of working so hard if at the end of the day, you will have to give it to those who cannot work as hard as you can?
I hope to find answers to my questions here from you and you.
I am @tobi, I love to see you around.