I'm taking you along with me as I create a new card deck for myself. I will create it with an American Indian theme as I did once before. What is Lenormand? - check out my previous article.
Card 16 - STARS
When we think of the Stars, we tend to think of:
Ideas, perception, fortune
Success, luck, abilities
Safe, wellness, improved health
Security, assurance, abilities
For more information on what this card means, check out Lenormand1's interpretation - for combining the Bear with any other card, check out the site: Learn Lenormand
For my new card, For my new card, I hit Google Images search, looking for something with CC0 (Creative Commons 0) licensing meaning that I don't always have to remember to credit someone - essential if I were to start doing paid readings with these cards.
I also had to find out which traditional playing card is associated with this card. So, here is my result: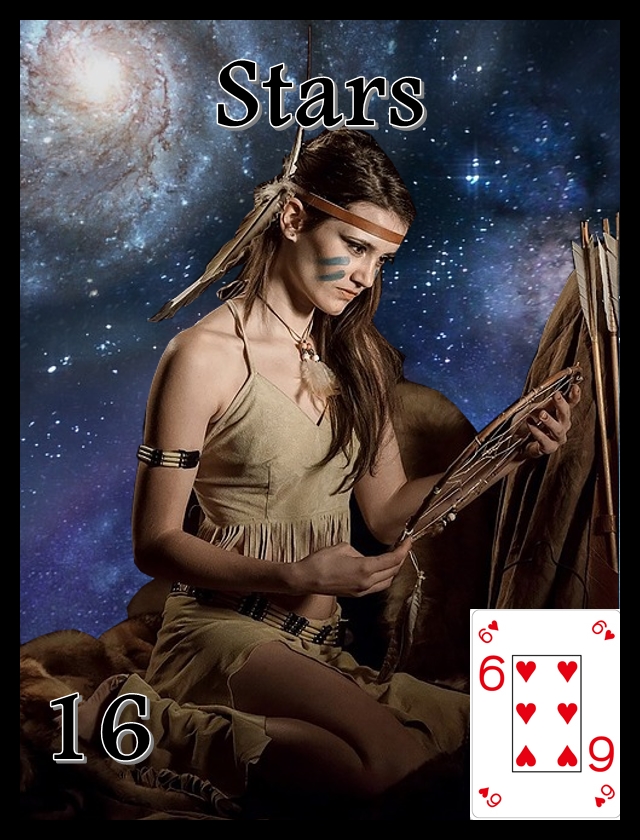 (Base image source: lady - Pixabay; background also from Pixabay)
I wanted a native image that would show the dreamy aspect of the stars. It's often difficult to find good native images though, certainly ones that are CC0 licensed and aren't either completely cliché or possibly patronizing. My only gripe with this image is that the woman isn't a very obvious native. Maybe she is, but it's not obvious. Unlike with DAZ 3D, I'm not confident with my ability to change the color of her skin appropriately, so I'm left with a fairly white woman. Still, she plays the part well and beautifully. She's looking at the dreamcatcher which can easily be symbolic of her ambitions coming to fruition.
The background, I picked up from Pixabay for something else - I think it might have been one of the Zen Colouring Contests, but it was perfect for this.
Overall, I really like the result.
Note: Readings are entertainment only (legally). You are in charge of your own destiny.
Previous cards: 1 Rider; 2 Dreamcatcher; 3 Canoe; 4 Tipi; 5 Medicine Wheel; 6 Clouds; 7 Poison Ivy; 8 Burial; 9 Flowers; 10 Tomahawk; 11 Rattlesnake; 12 Hummingbird; 13 Child; 14 Coyote; 15 Bear;
Crossposted at Steem, Whaleshares, WeKu, Hyperspace

Lori Svensen
author/designer at A'mara Books
photographer/graphic artist for Viking Visual
verified author on Goodreads
find me on Twitter
blogging on: Steem, Whaleshares, WeKu, Hyperspace, Publish0x


---
Join us in the Official Whaleshares server in the text channel "the-phoenix-project"